SciPost Physics Proceedings issue 7
RADCOR 2021 (15th International Symposium on Radiative Corrections: Applications of Quantum Field Theory to Phenomenology)
Event dates: from 2021-05-17 to 2021-05-21.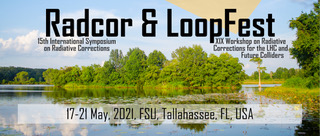 This is the 15th International Symposium on Radiative Corrections (RADCOR) which is dedicated to the application of quantum field theory techniques to particle physics phenomenology. The conference covers subjects on:
Higher-loop and higher-multiplicity calculations in the Standard Model
Cross sections for new physics
New techniques for calculations
Advances in computer-algebra methods
New theoretical developments
Nota bene: for submissions, a limit of 7 pages has been set.
(Guest) Fellows responsible for this Issue
Prof. Fernando Febres Cordero
Dr Manfred Kraus
Prof. Laura Reina
G. Falcioni, E. Gardi, N. Maher, C. Milloy, L. Vernazza

SciPost Phys. Proc. 7, 007 (2022) · published 20 June 2022 | · pdf

Ruth Britto, Guy R. Jehu, Andrea Orta

SciPost Phys. Proc. 7, 009 (2022) · published 20 June 2022 | · pdf

Hiren Kakkad, Piotr Kotko, Anna Stasto

SciPost Phys. Proc. 7, 011 (2022) · published 20 June 2022 | · pdf

Niamh Maher, Giulio Falcioni, Einan Gardi, Calum Milloy, Leonardo Vernazza

SciPost Phys. Proc. 7, 013 (2022) · published 20 June 2022 | · pdf

B.F.L. Ward, S. Jadach, W. Placzek, M. Skrzypek, Z. Was, S. A. Yost

SciPost Phys. Proc. 7, 015 (2022) · published 20 June 2022 | · pdf

S.A. Yost, M. Dittrich, S. Jadach, B.F.L. Ward, Z. Wąs

SciPost Phys. Proc. 7, 016 (2022) · published 20 June 2022 | · pdf

Fabian Lange, Philipp Maierhöfer, Johann Usovitsch

SciPost Phys. Proc. 7, 017 (2022) · published 21 June 2022 | · pdf

Stefano Pozzorini, Natalie Schär, Max F. Zoller

SciPost Phys. Proc. 7, 018 (2022) · published 21 June 2022 | · pdf

Neelima Agarwal, Ayan Mukhopadhyay, Sourav Pal, Anurag Tripathi

SciPost Phys. Proc. 7, 020 (2022) · published 21 June 2022 | · pdf

Guido Bell, Kevin Brune, Goutam Das, Marcel Wald

SciPost Phys. Proc. 7, 021 (2022) · published 21 June 2022 | · pdf

Jing Gao, Tobias Huber, Yao Ji, Yu-Ming Wang

SciPost Phys. Proc. 7, 022 (2022) · published 21 June 2022 | · pdf

Philipp Alexander Kreer, Robert Runkel, Stefan Weinzierl

SciPost Phys. Proc. 7, 023 (2022) · published 21 June 2022 | · pdf

Dhimiter D. Canko, Federico Gasparotto, Luca Mattiazzi, Costas G. Papadopoulos, Nikolaos Syrrakos

SciPost Phys. Proc. 7, 028 (2022) · published 21 June 2022 | · pdf

Dhimiter D. Canko, Costas G. Papadopoulos, Nikolaos Syrrakos

SciPost Phys. Proc. 7, 030 (2022) · published 21 June 2022 | · pdf

Ansgar Denner, Giovanni Pelliccioli

SciPost Phys. Proc. 7, 034 (2022) · published 21 June 2022 | · pdf

Michal Czakon, Alexander Mitov, Mathieu Pellen, Rene Poncelet

SciPost Phys. Proc. 7, 035 (2022) · published 21 June 2022 | · pdf

Qingjun Jin, Ke Ren, Gang Yang, Rui Yu

SciPost Phys. Proc. 7, 036 (2022) · published 21 June 2022 | · pdf

D. Canko, A. Kardos, C. G. Papadopoulos, A. V Smirnov, N. Syrrakos, C. Wever

SciPost Phys. Proc. 7, 037 (2022) · published 21 June 2022 | · pdf

Leonardo Di Giustino, Stanley J. Brodsky, Xing-Gang Wu, Sheng-Quan Wang

SciPost Phys. Proc. 7, 038 (2022) · published 21 June 2022 | · pdf

Matteo Fael, Fabian Lange, Kay Schönwald, Matthias Steinhauser

SciPost Phys. Proc. 7, 041 (2022) · published 22 June 2022 | · pdf